St Francis RFC was founded in 1960 by St. Wilfrid's School old boys who attended a youth club attached to the Friary Church of St. Francis and St. Anthony, hence the name St. Francis Rugby Football Club. In its infancy the first president was the parish priest Father Malachy. The central administrator was the late Jack O'Neil who was secretary, chairman and treasurer, latter he became the second president of the club and was patron until his death.

The club has had a nomadic existence, playing in Northgate, Ifield, Langley Green, Bewbush and Broadfield before moving to its present ground at Southgate playing field. The club's first clubhouse was the Jet Line Club, then it moved to Goffs Park Pavilion were it resided for 25 years. At the beginning of the 1998/1999 season, the club joined forces with the Crawley Irish Centre to form the Emerald Sports & Social Club at Southgate Pavilion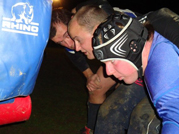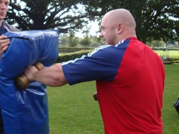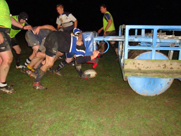 St. Francis RFC offers rugby to its members through playing in the County Leagues, County Merit Tables, County and National Cup competitions, plus friendly games for players of all levels and abilities. The club at present runs two senior sides, which compete in the Sussex Intermediate and Sussex 3 West leagues respectively, and an occasional Veterans (over 35's) team that plays many friendly fixtures throughout the season. Games are played every Saturday from September through to April.

The club trains every Tuesday and Thursday evening from mid June to April. Training during the summer months of June - September sees Tuesdays and Thursdays sessions being held at the club, starting at at 7:00pm sharp to take advantage of the natural light.

During the Winter months of October - April, training on Tuesdays and Thursdays is held at the club starting at 7:30pm under floodlights.

Any one interested in joining us can drop into the club any Tuesday or Saturday during the season where you will find a friendly and welcoming club atmosphere. E-mail addresses are also available within this sites Contacts section for anyone interested in joining.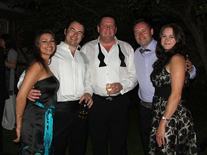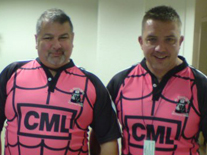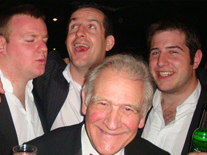 Being a non-professional club, St. Francis is structured with an elected committee of officers and captains who run the club with the help of all club members. As the club is run by the players and ex-players, the level of rugby continues to improve as an emphasis on player welfare and development is seen as a priority. Apart from the playing side, the club organises many social events including International and national tours, an annual Club Dinner, a Summer Dinner Dance, numerous Vice President Lunches and many other social events throughout the year.